In Memory of Constance F. Parvey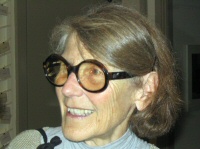 We give thanks for the life of Rev. Constance Fern Parvey, who died on Saturday, May 21, 2011. She served the UniLu community as Associate in College Work from 1955 to 1961 and as Associate Pastor and Lutheran Chaplain at MIT from 1972 to 1978. She returned to the Lutheran-Episcopal Ministry at MIT from 1996 until her retirement in 2001.
Pastor Parvey was one of the first women students at Harvard Divinity School, graduating with a Bachelor of Divinity degree in 1963; she was also the first woman ordained in the Lutheran church in New England. From 1978 to 1982 she served on the Faith and Order Commission of the the World Council of Churches in Geneva, Switzerland, where she directed the pathbreaking Study on the Community of Women and Men in the Church. From 1989 to 1996, she was the pastor of Good Shepherd Lutheran Church in Jericho, Vermont.
Our thoughts and prayers are with all who mourn our pastor, friend, and sister in Christ. A service of thanksgiving for her life took place on Tuesday, June 28 at University Lutheran Church. Rev. John S. Kidd, pastor of Augustana Lutheran Church in Washington, D.C. and a friend of Connie's since the 1970s, was the homilist; we are grateful for the opportunity to share Pastor Kidd's sermon online (PDF).
Gifts in Connie's memory may be directed to:
"Generation to Generation" Endowment Fund
University Lutheran Church
66 Winthrop Street
Cambridge, MA 02138

Give to UniLu online, using the "Endowment Fund" line on the form. Or, make checks payable to "University Lutheran Church" with "Endowment Fund" in the memo line.

Lutheran Immigration and Refugee Services
700 Light Street
Baltimore, MD 21230
Give to LIRS online
Please share your memories of Connie's life on the UniLu Remembers blog. Detailed directions are available at Using the UniLu Remembers Blog; or, send your comments to our webmaster, Susan Worst, at webmaster@unilu.org for posting.
Also of interest: