Obituary for Henry E. Horn
This obituary was written by Henry E. Horn before his death, and edited by his daughter Marguerite E. Horn.
Henry Eyster Horn, born 1913 in New York City, died Jan. 29, 2007 in his sleep at home in Cambridge, Mass.
The namesake of the Reverend Dr. Henry Eyster Jacobs, his maternal grandfather, Henry was born in New York City to the Reverend William M. Horn and Marguerite Eyster Jacobs. His father was then pastor of the Advent Lutheran Church. Four of the eight children became Lutheran ministers.
His father moved to Ithaca, NY where his father established a Lutheran presence at Cornell University in 1917. Young Henry got all of his pre-college schooling from the Ithaca Public Schools, graduating with honors from the high school in 1929. He then attended Cornell majoring in History, attaining Phi Beta Kappa in his junior year, and graduating with honors in general studies in the class of 1933—of which he later was elected Secretary. He attended the Lutheran Theological Seminary in Philadelphia, class of 1936, and was then called as Graduate Fellow. He was ordained in 1936 at Albany by the United Synod of New York and New England. In 1965 he was honored with a D.D. by Muhlenberg College and in 1983 with a L.L.D. by Valparaiso. In retirement he received the Gold Medal for 1990 given by the National Heritage of America for retired clergy, and from Luther Seminary in St. Paul, the prestigious Christus Lux Mundi award as an outstanding clergyman in 2001.
In 1938 he began his ministry as pastor of Immanuel Lutheran Church, Burholme, Philadelphia, serving until 1943 when he moved to become President of Marion College, a junior college for women in Marion, Georgia. In 1949 he was called as pastor of the Evangelical Lutheran Church of the Resurrection, Augusta, GA, and was influential in establishing two new churches to serve the many people who moved to work in or near the Savannah River Project. In 1953 he moved to Cambridge, Mass. to University Lutheran Church. He retired in 1978. In retirement, he served as theologian-in-residence, interim supply pastor, and taught at Bryn Mawr College, Lutheran Theological Seminary at Philadelphia, and Luther Northwestern Theological Seminary teaching Church Music and Worship.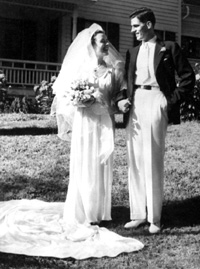 In 1938 he married Catherine H. Stainken of Brooklyn. There are ten children: Jean Swanson of Chicago, IL; Dr. Henry S. of Princeton, NJ; Dr. David J. of Columbus, Ohio; Charles M. of Westhampton, MA; Rev. William M. of Allentown, PA; Marguerite E. of Albany, NY; Dr. Richard D. of Lexington; Eleanor Grotzky of Munich, Germany; Michael J. of Watertown, MA; and Dr. Andrew G. of Halifax, N.S. There are twenty one grandchildren and nine great grandchildren.
He leaves his wife, ten children, twenty-one grandchildren, nine great grandchildren and a host of nieces and nephews. He was predeceased by six of his seven siblings and one grandchild.
Pastor Horn served as chair of the Church Music Committee of his national church; twelve years on the Board of Deaconess Work; twelve years on the Board of Theological Education—the last two as President; Chair of the Commission on Liturgy and the Hymnal for eight years bringing together the efforts of the Lutheran Church in America and the American Lutheran Church; and Chair and advisor to synod worship committees of which he was a part. Pastor Horn was also a delegate to four national conventions of his church; and to the Faith and Order Assembly at Oberlin in 1957 and the World Council of Churches in Uppsala in 1968.
His first writing was in the educational field with his brother, William, who was working for the Augsburg Uniform Series of church school materials. His "O Sing Unto the Lord" was used for training of organists and choirs; "The Christian in Modern Style" received a readership outside the denomination. "Worship and Crisis" was helpful in a time of crisis (1972), "Lutherans in Campus Ministry" became a text for those in the field and gained him the title "Dean of Lutheran Campus Ministry." "Models of Ministry" summed up fifty years in the ministry for him. A final volume, "Thoughts From the Fountainside," was printed for friends later.
As editor, Pastor Horn released "Memoirs of Henry Eyster Jacobs" in four volumes; "Autobiography of Joseph A. Seiss" with William M. Horn; "Cornell and Cambridge: A Documentary History of Lutheran Campus Ministry" with William M. Horn. He wrote articles in Word and World, Lutheran Forum, Una Sancta, Lutheran Quarterly, and Dialog. He taped "Reveries in Hymn Tunes" for the archives of Lutheran Theological Seminary at Philadelphia.
Pastor Horn was active in the civic life of Cambridge, including: Boy Scouts, Family Society, Camping Society, Community Services, Model Cities, Welfare Committee Chair, and Poverty Program in Cambridge. He also was active in the Boston Ministers Club up to time of his death.
---
Back to In Memory of Henry E. Horn.