In Memory of Jean Lokensgard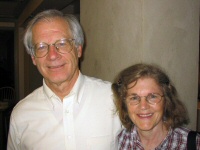 We give thanks for the life of our longtime member Jean Lokensgard, who died on Friday night, June 10, 2011 at the age of 70. Her husband Alan and children Kari and Mark were at her bedside when she died.
Our thoughts and prayers are with Alan, Mark, Kari, and all who mourn Jean's passing, including the many students she worked with during her decades of service as a physical therapist in the Cambridge public schools.
A service celebrating Jean's life took place on Sunday, July 24 at University Lutheran Church.
If you would like to make a gift in Jean's memory, family members recommend:
Please share your memories of Jean on the UniLu Remembers blog. Detailed directions are available at Using the UniLu Remembers Blog; or, send your comments to our webmaster, Susan Worst, at webmaster@unilu.org for posting.
Also of interest: