In Memory of Bruce Krag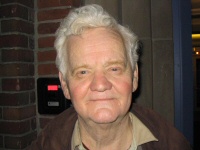 Bruce Krag in 2005. Photo by Chris Pollari.
Longtime University Lutheran member Bruce Krag died on February 17, 2006. We are grateful for his life and for the many years he spent in our community.
A memorial service took place on Saturday, June 3, 2006 at University Lutheran.
Gifts in Bruce's memory may be directed to:
Please make checks out to University Lutheran Church and write "Bruce Krag Memorial" on the memo line. Mail contributions to:

University Lutheran Church
66 Winthrop Street
Cambridge, MA 02138-5998

Please make checks out to Harvard Square Homeless Shelter Corporation and write "Bruce Krag Memorial" on the memo line. Mail contributions to:

Harvard Square Homeless Shelter Corporation
66 Winthrop Street
Cambridge, MA 02138-5998

Please make checks out to Lutheran Student Movement USA and write "Bruce Krag Memorial" on the memo line. Mail contributions to:

Lutheran Student Movement USA
8765 Higgins Road
Chicago, IL 60631
Also of interest: