In Memory of Mildred Gilman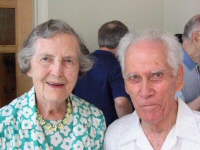 Mildred and the late Martin Gilman at University Lutheran Church in 2004. Photo by Chris Pollari.
We are grateful for the life of Mildred Hermine (Halfmann) Gilman, who died quietly on August 8, 2011 in Lexington, Massachusetts. Mildred was a beloved member of University Lutheran Church for more than sixty years, as well as an award-winning pioneer in the field of adult literacy, founding the Eastern Massachusetts Literacy Council (now English at Large) and training more than 1,000 tutors and tutor trainers in her 35+ year career.
The funeral service took place on Friday, August 12 at University Lutheran Church.
Donations in Mildred's memory may be made to:
Please visit the UniLu Remembers blog to share your memories and reflections. For technical help, see Using the UniLu Remembers Blog. Or, send your comments to our webmaster, Susan Worst, at webmaster@unilu.org for posting.
We hold Mildred's sons Edward and Peter, their families, and all of Mildred's relatives and friends in our thoughts and prayers. May God comfort all who mourn.
Also of interest: