In Memory of Heather Reisz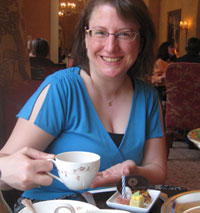 We are grateful for the life of Heather Lynn Reisz, who passed away Tuesday, May 14, 2013, at the age of 42 from natural causes. Heather moved from Boston to Chicago in November 2011 to start a new research group within the development department at the Art Institute of Chicago, she was currently the Director of Research at the Art Institute. Prior to moving to Chicago, Heather was the Director of Research and Prospect Development at the Museum of Fine Arts (Boston) and Manager of Research at the Museum of Science (Boston). Heather began her career in the mid-90's at the Names Project - AIDS Memorial Quilt in San Francisco; a former colleague wrote that she was the "engine behind corporate and foundation giving at the Quilt" that enabled them to do the 1996 display of the complete quilt on the Mall in Washington D.C. and the organization's High School Quilt Program.
Heather was an active and devoted volunteer and board member of the New England Development Research Association (NEDRA).  She had an infectious love for the work she did and served as a mentor to many. She had a particular fondness for newcomers to the profession. Thanks to Heather's free sharing of knowledge, support and advice, there are numerous people in the field who have her to thank for their success.
Heather was vivacious and made friends everywhere she went. She had a boisterous laugh and an empathetic heart. She was incredibly talented and found her calling as a researcher and data nerd within the development department of non-profits. And she was a devoted friend, daughter, sister, and Auntie to all of us that love her.
Heather grew up at UniLu where her father served as pastor. She was 7 when she moved to Boston. She was confirmed at UniLu and volunteered at the Shelter from day 1 and throughout high school. She graduated from Arlington High School and received her BA in American Studies from Vassar College.
Heather was the Godmother of Benjamin and Isabel (Izzy) Reisz-Hanson and was present for both of their births and baptisms at UniLu. Heather loved Benjamin and Izzy tremendously, and they her.
In lieu of flowers, donations can be made to:
Harvard Square Homeless Shelter
66 Winthrop Street, Cambridge, MA 02138

Heather's father, Rev. Fred Reisz, served as pastor at University Lutheran Church working alongside students who began the Harvard Square Homeless Shelter in 1983.

or

New England Development Research Association (NEDRA)
411 Waverley Oaks Rd., Ste, 331B, Waltham, MA 02452
ATTN: Heather Reisz Memorial Scholarship Fund

In Heather's memory, NEDRA will establish the Heather Reisz Memorial Scholarship to provide funding to its annual conference (which Heather loved attending) for newcomers to the profession.
Visiting hours will be Monday, May 20 from 11:30 AM to 1:30 PM at University Lutheran Church followed by a memorial service at 2 PM. Parking at a reduced rate is available both at the University Place Garage, 124 Mount Auburn Street, Cambridge, and at the parking garage on the corner of Eliot and JFK streets.
All are welcome to share your memories of Heather's life on the UniLu Remembers blog. Detailed directions are available at Using the UniLu Remembers Blog; or, send your comments to our webmaster, Susan Worst, at webmaster@unilu.org for posting.
Also of interest: