In Memory of Robert Halfman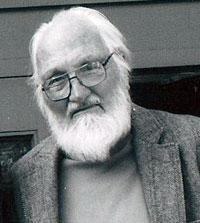 Bob Halfman. Photo by Birgitta Ralston.
We are grateful for the life of Robert L. Halfman, who died on Sunday, February 21, 2010, just a few weeks after reaching the age of 87. Bob was a respected and cherished member of University Lutheran Church for sixty-three years.
Bob's wife, Ellie, and son Peter provided this sketch of Bob's life:
The third son of Walter and Anna Halfman, Robert Halfman was born in New York City where he lived until going to college at MIT. His education there was interrupted by his service in the US Navy in the Pacific during World War II. After the war Bob continued his studies at MIT where, after earning a master's degree, he was hired as a Professor of Aeronautics.
In 1948, he married Eleanora Otto and they had 4 children, Peter, Peg, Sue, and John; they lived in Lexington. Bob's lifelong career at MIT as a Professor and later as an Associate Dean, was interrupted twice during the 1960s when the family went to live in India, when he participated as one of the American professors there and later as the director of the US AID project that helped establish a branch of the Indian Institute of Technology in the city of Kanpur.
During his retirement, Bob especially enjoyed visits from his five grandchildren during the annual Halfman family reunions at the family's vacation home on Lake Winnipesaukee in Meredith, NH. Bob's wish was to be cremated and for his family to schedule a remembrance in Meredith to scatter the ashes in the summer.
Visit the UniLu Remembers blog to share your memories and reflections. For technical help, see Using the UniLu Remembers Blog. Or, send your comments to our webmaster, Susan Worst, at webmaster@unilu.org for posting.
Contributions to University Lutheran in Bob's memory may be sent to the church office or made online. Checks should be made out to "University Lutheran Church" with "Robert Halfman memorial" in the memo line. To give online, go to UniLu's secure giving page and enter the amount in the line labeled "Other Gift, specify." In the text box next to the amount, enter "Robert Halfman memorial."
We hold Ellie, Peter, Sue, and John in our prayers, even as we give thanks for Bob's long and faithful life.
Also of interest: