In Memory of Warren Himmelberger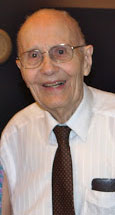 We are grateful for the life of Warren Himmelberger, who died on Monday, November 5, 2012 in Concord, Massachusetts with family at his side. Warren was a beloved member of the UniLu community for nearly sixty years. As we commend him into God's merciful care, we pray for his loved ones, including Warren's wife, Ann and their family. May God comfort all who mourn.
All are welcome to join the Himmelberger family and Pastor Cindy Jacobsen for a service of remembrance and celebration of life on Sunday, December 2, 2012 at 2 pm at the Congregational Church of Littleton, 330 King Street, Littleton, Massachusetts.
Please visit the UniLu Remembers blog to share your memories and reflections. For technical help, see Using the UniLu Remembers Blog. Or, send your comments to our webmaster, Susan Worst, at webmaster@unilu.org for posting.
In lieu of flowers, donations may be made in Warren's memory to:
CARE
Gift Center
P.O. Box 7039
Merrifield, VA 22116-9753
or
Hospice of the North Shore & Greater Boston
75 Sylvan Street
Suite B-102
Danvers, MA 01923
Also of interest: