Warren J. Himmelberger
This obituary was prepared by Warren's family for the Wellesley Townsman, where it was published in the November 12-19 issue.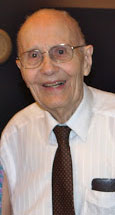 Warren Himmelberger, 90, of Littleton, MA, formerly of Wellesley, passed away peacefully on November 5 after a brief illness. Survived by his beloved wife of 54 years, Ann (Herpy), and five devoted children: son Allen and daughter-in-law Karen of Medway; son David and daughter-in-law Katy Reid of Wellesley; daughter Ann Wald and son-in-law Jack Wald of Rabat, Morocco; son Craig of Lowell, former daughter-in-law Maureen Cahill of Littleton; and son Clark and Kelly Spence of Algonac, MI.
He was the delighted grandfather of Adam, Kristen, and Laura Himmelberger; Emma R. and Julia Himmelberger; Elizabeth Frank and Caitlin Littleton; Calvin, John, and Alma Himmelberger; and Emma S. Himmelberger. He also took great joy in his five great-grandchildren: Lucia and Clara Frank; and Samuel, Jeffrey, and Nora Littleton. He was predeceased by his first wife, Joan (Bradley) and his sister, Marion White.
A native of Lebanon, PA, Warren graduated from Muhlenberg College and later earned two graduate degrees from Boston University. He served in the Pacific during World War II as a Navy weatherman. A dedicated high school and junior high school math teacher, Warren spent most of his career at Wilson Junior High in Natick, MA until retiring from teaching in 1977. From 1956-84, he also worked at post offices in Holliston and Sherborn, MA.
A faithful member of University Lutheran Church, Cambridge, MA since 1946, Warren possessed a keen sense of justice and offered his time and talents to benefit people however he could. In 1963 he joined the South Middlesex Branch of the NAACP, serving as second vice president and ombudsman over a 20 year period.
During his 39 years in Wellesley, Warren was active in town government, serving on several education and planning committees, and in Town Meeting for 25 years. As Chairman of a Regional School District Planning Board he helped create Quinobin Regional Vocational District and continued his involvement, first as the acting executive director and then as secretary-treasurer from 1978-1987. He was a member of the Wellesley Historical Society for over two decades, serving as both treasurer and chairman of the finance committee.
After his retirement, Warren was an active volunteer with the Tax Counseling for the Elderly Program from 1984-1994. He enjoyed singing with the Highland Glee Club from 1984-1994, and he always looked forward to his annual travels in Europe with Ann.
Private services were held. Friends and family are invited to celebrate Warren's life at a memorial service, Sunday, December 2, 2012 at 2 PM, Littleton Congregational Church, 330 King St, Littleton, MA.
Donations may be made in Warren's memory to:
CARE
Gift Center
P.O. Box 7039
Merrifield, VA 22116-9753
or
Hospice of the North Shore & Greater Boston
75 Sylvan Street
Suite B-102
Danvers, MA 01923
Back to In Memory of Warren Himmelberger.