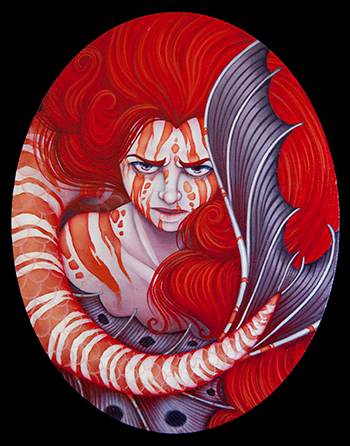 "Defensive" by Emily Ullrich. Acrylic on canvas, 11" x 14". Reprinted by permission of Emily Ullrich; all rights reserved.
Habitual Creatures
by Emily Ullrich
May 2 - June 24, 2018
Gallery Hours
Monday–Thursday: noon–6 p.m.
Opening Reception
Sunday, May 6, 2018, 1-3 pm
Directions
For comprehensive directions, please visit the University Lutheran Church Map and Directions page.
Artist's Statement
Though we picture the mermaid as a powerful symbol of femininity, mystery, and seduction, a more fragile entity lies just beyond first glance. Behind the allure of beauty is a creature not truly fit for land or for sea, the personification of an identity crisis. Whether above or below the water, she is vulnerable. Perhaps it is the mermaid's vulnerability, not seduction or mysticism, that draws us to her.
How do living beings deal with vulnerability? Do we blend in to hide? Do we fight, or flee? Do we cry, stretch ourselves too thin, develop toxic tendencies? In nature, and in our own personal narratives, we adapt to our environment, constantly being shaped by what challenges us.
Inspired by the biological adaptations of marine life, and by the vulnerability that all creatures feel, these mermaids invite the viewer to explore various aspects of stress, change, and growth. The need to cope with pain and irritation birthed the pearl. The need to navigate crushing darkness brought bioluminescence. Vulnerability looks weak at first glance, but it is the driving force behind surviving and thriving. For a mermaid's soul learning to survive in a harsh reality, her beauty is not inherent, but earned.
About the Artist
Emily Ullrich was born and raised in Austin, Texas. She took an interest in drawing from an early age and frequently participated in art camps and classes outside of school. In high school, her works were shown in competitions and traveling shows, winning numerous awards. Emily received her B.A. in Visual Arts from Texas Lutheran University in 2015. After graduating, she did several projects in Austin, including mural work and set painting.
Emily moved to Boston in the fall of 2016, balancing various jobs with artistic pursuits. Inspiration for Habitual Creatures first came as a way to cope with the long Boston winter, and has evolved over the past year and a half into a complete body of work. Emily will be leaving Boston in late June, but plans to continue taking commissions and moving forward with ideas for future shows. For the next step, she hopes to have the opportunity to explore a variety of interests, ranging from book illustration to storyboard art to concept sketching.