Now showing:
A Seat at The Table, Time and Transformation
By Deborah Ogden
January 13–April 5, 2020
Gallery Hours
Monday–Thursday, noon–4 p.m.
or by appointment with the artist
Opening Reception
Sunday, March 22, 2020, noon–2 p.m.
Meet the Artist
Join Deborah Ogden for an interactive art experience and sound bath with Himalayan Singing Bowls:
Saturday, February 8, 2020, noon–4 p.m.
Saturday, March 28, 2020, noon–4 p.m.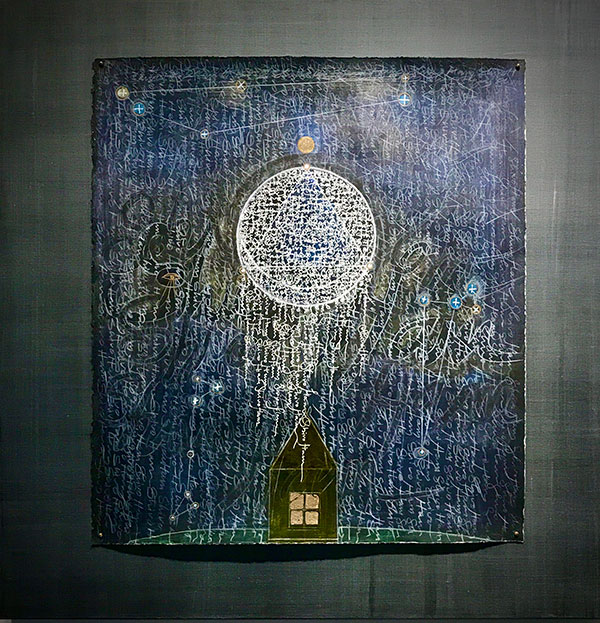 "SHIVO HAM" by Deborah Ogden. Reprinted by permission of Deborah Ogden; all rights reserved.
Directions
For comprehensive directions, please visit the University Lutheran Church Map and Directions page.
About the Artist
Deborah Ogden is a graduate of The Art Institute of Boston, Fine Arts Program, and an accomplished visual artist. Self-employed for 35 years, Deb has worked in the fields of Arts and Antiques, Marine Repair and Restoration, and her Decorative Design and Painting Business, Laughing Water Designs. Using paper collage, mixed media, and graphic design, Deb has always maintained her own fine art production as well. For many years, Deb's personal artwork has focused on Sacred writing and script. Eastern Philosophy and Native American Spirituality inform and inspire much of her work. Currently Deb is working on a series of mystical drawings which have become Oracle Cards.
Deb has taught many different art and spirituality based workshops and seminars, and currently runs drumming and meditation groups, and collaborates with yoga practitioners and musicians in sacred sound practices and performances as part of the Beyond the Beyond One Note Band. Her Studio is located in Rockland, Massachusetts at The Sandpaper Factory Building.
Artist's Statement
Deborah Ogden is an artist who uses Paper, Paint, Pens, Words, Objects, and Sound to convey a connection to a Sacred Imaginal realm. Meditation and Artmaking join with Sacred Writings and Mystical States of Being to create a reflective environment for the viewer.
Contacting the Artist
To arrange for appointment viewing, make a purchase, or ask a question, contact the artist by email at oggci@yahoo.com or by phone at 781.405.1076
For more examples of Deborah Ogden's work, visit her Instagram or Facebook page.