Singing in Silence
Photographs by Ezra Ercolini
October 2, 2019–January 12, 2020
Gallery Hours
Monday–Thursday, noon–4 p.m.
or by appointment with the artist
Opening Reception
Saturday, October 19, 2019, 6–8 p.m.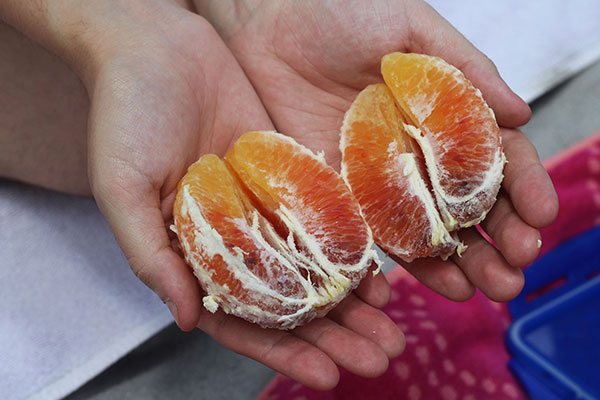 "Oranges on Long Beach, 2019" by Ezra Ercolini. Digital photograph. Reprinted by permission of Ezra Ercolini; all rights reserved.
Directions
For comprehensive directions, please visit the University Lutheran Church Map and Directions page.
Artist's Statement
Singing in Silence is a collection of digital photography inspired by Shakespearean style sonnets previously written in response to a weekend seminar, "POSE: Queer Theology in Ministry" at Boston University School of Theology. The sonnets, titled Sacred Bodies, describe the artist's discovery of their own queer identity, struggle, and subsequent reconciliation with the capital "C" church. As the words touch on themes of Queerness, the identity of God, sacred community, and healing, the photographs were created to illustrate similar sentiments. The goal of this show is to take the viewer through moments of peace and self-reflection that allowed the artist to realize the Divine within themselves, hoping the viewer will realize the same.
Contacting the Artist
To arrange for appointment viewing, make a purchase, or ask a question, contact the artist by email at ezra.ercolini@gmail.com
For more examples of Ezra Ercolini's work, visit their website, Instagram, or Facebook page.