Natural Translations
Paintings by Lex Nappa
May 4–June 30, 2019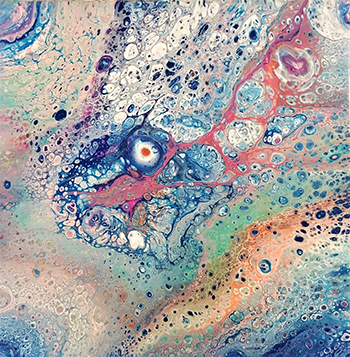 "Pearl" by Lex Nappa. Acrylic on canvas, 8" x 8". Reprinted by permission of Lex Nappa; all rights reserved.
Gallery Hours
Monday–Thursday: noon–6 p.m. (May)
Monday–Thursday: noon–4 p.m. (June)
Directions
For comprehensive directions, please visit the University Lutheran Church Map and Directions page.
Artist's Statement
When we look up to the sky on a starry, cloudless night or when we survey a field of fresh-bloomed wildflowers - what registers in our minds as beauty? How do we know we're observing two different phenomena when all is made of starstuff?
Natural patterns surround us, forming and dissolving, whether in the architecture of a dandelion's bright, radiant petals or the rippled structure of a cloud just before a storm. Observing nature's beauty is one of the most precious gifts afforded to us in the cacophony of life. There are few things more grounding, more intimate, more whole.
In its unending grace, the cosmos bestow on us a feeling, a gravitational pull towards what we know in our hearts as true but may never be able to express. These paintings serve as a rough translation.
Artist's Bio
Lex Nappa is a writer, artist, and musician who works as a researcher by day and makes room for creativity as meditative practice. From bowtie making, to the Japanese art of amigurumi, to Appalachian dulcimer design and construction, Lex has picked up and played with dozens of art forms. Deeply inspired by nature and the cosmos, Lex began experimenting with alcohol ink and acrylic pour mediums in 2017 and has been honing the craft ever since.
Also see Lex's art on Instagram.