Refuge
Paintings by Lynn Ray
July 1–September 29, 2019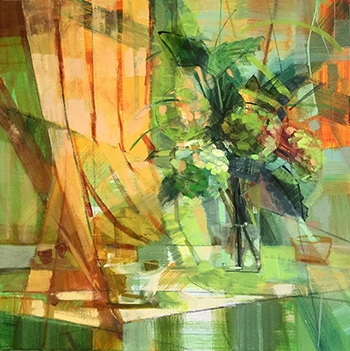 "Tina's Hydrangeas (2018)" by Lynn Ray. Oil on canvas, 30" x 30". Reprinted by permission of Lynn Ray; all rights reserved.
Gallery Hours
Monday–Thursday: noon–4 p.m.
Meet the Artist
Sunday, August 18, 2019 11 a.m.–noon
Directions
For comprehensive directions, please visit the University Lutheran Church Map and Directions page.
Artist's Statement
The simple pleasures of home with its daily rhythms, comforts and moments of beauty provide me with an enchanting refuge from our chaotic world.
Sipping tea or coffee, sniffing whatever is fragrantly blooming in the garden or watching clouds drift over the harbor islands gives me gentle pause and ample inspiration.
These paintings explore the push and pull of light, form and space. I feel at home within myself when I create. I love when I can open into a conversation with the painting — it's a bit like taking tea with a friend.
A refuge takes many forms and expresses itself in many ways, but always offers comfort.
Artist's Bio
Lynn Ray is a contemporary painter who prefers the pure color and luminosity of oil paint. Her inspiration comes from her affinity for domestic life. Whether inspiration takes place indoors or out, the focus of her work celebrates the moment-to-moment experience of seeing the world through a sense of enchantment. Her work captures the vibrant energy and affinity she feels for her subjects.
Ray was born in Southern California and raised in the Pacific Northwest. She settled in New England after serving as a graphic artist for the Marine Corps. During her time in the service she lived in Okinawa, Japan, where she absorbed the culture and the Japanese aesthetic. After her military service, she studied commercial art at the Massachusetts College of Art & Design.
She is art director for two established Scottish interest magazines, published by Neill Kennedy Ray. Before transitioning to work in the publishing field, she worked in the graphic arts field for ten years at a large Boston ad agency.
She lives on a hill by the sea with Neill, on Boston's South Shore.
For more examples of Lynn Ray's work, visit her website, www.lynn-ray.com, or her Facebook page. Contact her by email at lynnraypaintings@gmail.com.